The beach by the Pacific Ocean. A small island, and around it a beach and blue water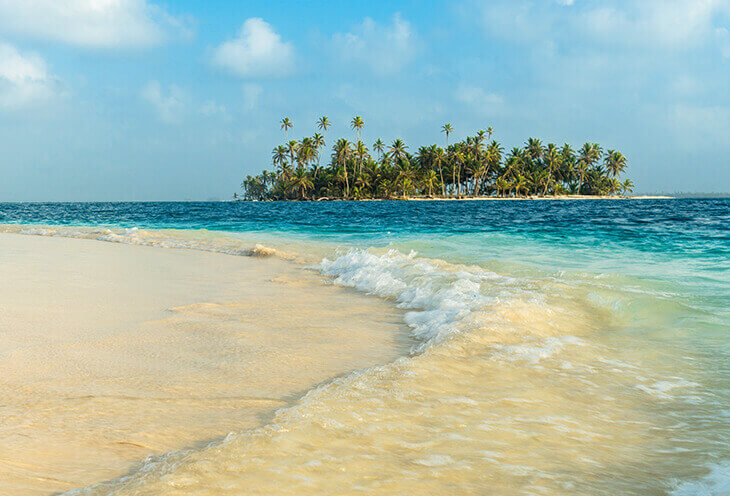 Tomasz Ciuła, ITOps Manager Comarch, has had the chance to learn about Latin America thanks to his business trips and decided to share a handful of insights and impressions from his South American adventures with you.
Beginnings
Of all the countries I have visited, I liked Panama the most. It is where I lived and worked the longest. I managed to visit a lot of places there and Panama is the country for which I feel particularly nostalgic. My second favourite is Ecuador.
Now, about working in Ecuador. How did it all begin, why such a remote destination? I left for South America without any knowledge of Spanish. When I arrived, it turned out that very few people on the spot knew any English. The language barrier made living in a completely new reality rather difficult for me at first. The situation in our client's office was better, but still not as rosy as I had expected. People who spoke fluent English were mostly found in high managerial positions, while we mainly dealt with regular technical staff; the specialists we had come to share our knowledge and experience with. It was not easy to break down communication barriers, but both sides were highly motivated.
As for the local work culture, it is rather unlike what we are used to in Poland or, by and large, in Europe. Especially in the IT sector, Europeans strive to be effective, and dynamic above all; we are professionals who strictly adhere to deadlines. In Latin America, the IT sector looks quite different. You have the impression that time slows down a bit and the relaxed atmosphere at work does not promote fast problem-solving. Latin Americans are very friendly; they like to start the day with chitchat over coffee. Everyone needs to greet and hug everyone. It is only after this "morning ritual" that actual work can kick off.
Technology
Comarch signed its first contracts with the countries of South and Central America at the beginning of the 2000s. Our innovative products and solutions quickly became very popular with our clients; Latin Americans were eager to learn from us and appreciated our knowledge and experience. A Polish company with a global reach was a novelty for them. They knew precious little about our country and associated it mainly with Lech Wałęsa and John Paul II. Today, things are different. Our clients not only use our products, but also contribute to their development.
Team
The first Comarch branch in South and Central America was set up in Panama City. Our office was initially staffed by Polish people, but the objective from the start was to recruit and train local specialists. This was no easy task, as the local labour market at the time lacked professionals with the specialist knowledge we required. However, we managed to recruit really talented people (e.g. top university students), who wanted to work for an international technology company. One of my responsibilities was to train new employees and teach them the ropes of their future work. The intimate atmosphere of the Panama office favoured integration between the Polish and the Panamanian staff. Everyone was extremely eager to learn about the culture, customs, history; basically everything about the two countries. The common language was English, but in reality we spoke a mix of English, Polish and Spanish, which led to no end of funny situations. We soon became a close-knit team and liked to spend our leisure time together, as well.
Society
Latin America shows great social stratification. Business and residential neighbourhoods with high-rise apartment blocks are often just a stone's throw away from very poor areas where you shouldn't venture on your own. In Panama, the contrast between the rich and the poor is very striking. A sort of the caste system can even be observed in the way companies organise their work and dress codes. Specialists and technical staff dress casually and work in dedicated areas. Those in high positions, on the other hand, such as project managers, sit apart and wear business outfits. The rules are enforced so strictly that even the Polish staff who arrived at the Panama office could not choose to sit wherever they pleased, but had to join the employees of equivalent rank. Once a week, on Fridays, everyone comes to work in company T-shirts. This happens in every company and matters a lot, something we would consider rather untypical in Poland.
How do we differ from Panamanians? We are more disciplined and organised, but also tend to complain more. We consider ourselves pessimistic. Latin Americans, on the other hand, are true optimists, who love and know how to have fun. They always see the glass half full. They also have a rather peculiar attitude to punctuality. If you decide on a meeting time, they will only treat it as a ballpark suggestion. Thankfully, the issue is approached with greater rigor in a business context.
I also believe that we are more reserved; Panamanians tend to express their feelings and emotions in a very effusive way. This is evident in everyday life, e.g. during soccer games, the beloved sport of Latin Americans. Love for soccer is something we definitely have in common.
Integration
In my leisure time, I did a lot of sightseeing and went out with my colleagues. In Panama, we created a very close-knit intercultural team and liked to spend time together. We danced in night clubs, played soccer, went bowling, took weekend mini-breaks in the country and organised barbecues. We celebrated our birthdays together. Integration mattered a lot to us. We were often joined by family members and friends, which tightened the bonds between us even further. Panamanians are very family-oriented and cordial. Young people often live with their parents and grandparents in multi-generational families that are ever harder to come by in Poland nowadays. I also met cool people in Ecuador and I am still in touch with some of them, not only on a business footing.
Panama is a coastal country, a true paradise for lovers of fish and seafood. Panamanians like their food well-seasoned, which is why coriander (a very strong spice) reigns supreme in their cuisine. Fried bananas, red beans and beef are also a staple, as is ceviche (raw fish with lemon juice and spices).
Safety
Despite frequent safety concerns about South and Central America, nothing ever happened to me during my travels, and I am the kind of person who likes to travel a lot on my own, often using local means of transportation.
Using public transport in Latin America can turn out to be a real adventure. In some countries, it is quite well organised; in others, you are never absolutely sure when, if at all, you are going to reach your destination. Things we take for granted in Europe, such as bus schedules or fixed routes, are no longer obvious in Latin America. Hardly anyone sticks to them. Municipal transport issues are particularly serious in Panama, for instance, which is plagued by organisational chaos, obsolete infrastructure, corruption and frequent traffic accidents. Locals often refer to local buses as red devils (Diablo Rojo), since they are really dangerous to ride on because of their terrible technical condition.
You can see, however, how the country has changed over the years. A metro has been opened in the capital and new roads are being built in order to streamline transportation within the city. Panamanians love to drive cars and show a rather relaxed approach to traffic regulations. In the capital city plagued by frequent traffic jams, drivers never use turn signals, often drive against the traffic, use sidewalks as additional lanes, and constantly toot their horns, especially when they see a pretty girl walk by. You can also hail a cab, but remember that the driver may take several other passengers along the way. In comparison, Polish roads seem really quiet.
Tourist attractions
Latin American countries are a real paradise for travellers, for lovers of fauna and flora, colonial heritage sites and pre-Columbian culture. It is simply impossible to get bored there. For me, each weekend was like a small vacation. The great thing about Panama is that you can spend time on the Pacific Ocean or the Caribbean Sea and admire the coral reefs. One of my favourite places is the San Blas Archipelago, which consists of around 370 islands, one for every day of the year, as the Kuna Yala Indians like to say. In Ecuador, it is worth visiting the volcanoes, which are really impressive; some continue to be active today. To look at how locals live and spend their leisure time, I would go to markets, bazaars, and parks and, of course, shopping malls.
As you can see, working in IT overseas means more than just long hours in front of the computer screen; it is also an opportunity to have the time of your life and visit the most exotic destinations in the world. The conclusion is simple: we follow our clients wherever they are!