You'll get to like living in Japan, but you have to play by the rules. What's it like to work at Comarch Japan?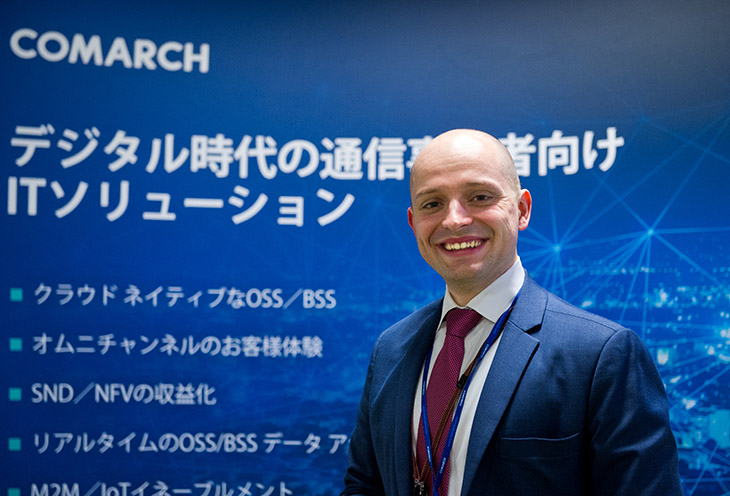 He's been living in Japan for years, yet this country still fascinates and surprises him. Each year he travels thousands of kilometers to meet his clients. Łukasz Zezulak, Country Manager in Japan, told us all about his work at Comarch's office in Tokyo.
What does the Japanese branch of Comarch do in terms of business?
Comarch Japan dates back to 2014. At first, one of the Japanese business integrators searching for telecommunications solutions reached out to my then-employer. This set the tone for Comarch's development in Japan - in the beginning, we offered our solutions mainly to entrepreneurs from the telecommunications industry. As time passed it turned out that we could also develop new business opportunities in other fields such as IoT or loyalty systems. Comarch took that advantage of this opportunity and now three big projects are almost finalized. But we're not stopping there! In April we started expanding our business operations connected to eHealth and financial services.
How will the Japanese branch develop in the future? Are there any changes, such as expanding the team?
Each completed project and each implementation requires further support. At Comarch, our main goal is to establish long-term business relations with our clients. This calls for collecting new resources and training staff accordingly to enable them to work with each specific client and his company. As for now, there are 3 of us, but soon more specialists will join our team. We're mostly looking for consultants and salesforce.
How do you establish business relations with local companies? How does it work later on?
In many cases, we get to build strong, personal relations with our clients. More often than not we establish new connections thanks to recommendations, which is extremely important in Japanese business culture. Another great way to meet potential clients is during all sorts of fairs and industry events, but those are currently suspended.

In Japan, lasting relations and mutual trust are crucial. It often takes several months, in many cases even years, to sign a contract with a new client. The process is not only lengthy but also quite time-consuming as we're meeting with our clients really often for presentations, phone calls, and reference visits. It allows us to not only present our systems and solutions thoroughly in detail but also get to know our customer's detailed requirements as those are rarely explained explicitly.
Are the cultural differences between the West and Japan as significant as it's said? How could you describe working in Japan from a Pole's perspective?
It's a difficult question and the answer is rather complicated. Personally, I haven't met any Pole or foreigner that would perceive working in Japan as something even remotely comparable to what we know from the West. The situation is influenced by many factors, cultural and language differences being the most important.

We should remember that Japan remained uninfluenced by western civilization for a long time. The Japanese look at life from a different perspective, have a unique value system. Japanese culture is categorized as a high-context culture, which basically means that our interlocutor will just assume that we possess the knowledge needed and we are familiar with all the circumstances. As you may imagine, this can easily lead to problems and miscommunications. While working in Japan it's also good to know the meanings of specific gestures and nonverbal signals. Let's not forget that the Japanese language with all those strange-looking signs doesn't make communication much easier. It results difficult to even copy-paste those into Google search.

A person lacking specific knowledge of Japanese business culture may find it extremely hard to get a grasp of professional relations. Maybe there are some exceptions, for example working within one specific communications universe such as programming or conducting scientific research.

Currently, the team of Comarch Japan is formed exclusively by graduates of Japanese studies or people with extensive experience in the field. It really makes cooperating with our clients that much easier.
What's your story? How did you find yourself working at Comarch Japan?
I've been living in Japan since 2008. Before that, I've been studying here. Before joining Comarch Japan, I worked at a Japanese company specializing in building networks for telecommunications operators. My then-employer reached out to Comarch to establish cooperation. Although I was in charge of totally different matters, the minute I heard about possible cooperation with a Polish company, I started to support this endeavor from behind the scenes. Once Comarch established a branch in Japan, I officially joined the team in Tokyo.
What does a usual working day in Japan look like?
An average working day in Japan doesn't differ that much from Polish or European standards. What's noticeable is that there are definitely more internal meetings. And those are not just short get-togethers, during which 2 or 3 people would quickly go through the details of the project. Those meetings are much longer, usually also attended by a larger group of people who discuss several topics really thoroughly. There are also significantly more external meetings with current or potential clients. Before the pandemic outbreak, practically no meetings would be held online. Because of that, our team spent lots of time on trains, traveling between Comarch's office and the client's headquarters.

Japanese business culture is known worldwide for its extremely long workday and staying at the office after hours. One of the reasons for that is the enormous amount of meetings held daily. Only in the evenings, you'll find time to sit down, work on your presentation, or just deal with the paperwork. After that, you'll typically have dinner with your teammates.

That's how it works in Japanese companies. At Comarch Japan on the other hand, currently, all the employees are Polish. The atmosphere is quite different, more chummy. We're doing our best to implement the principles of Agile methodology into our way of doing business. Despite that, meeting with our clients remains our number one priority. Right now there are even more of those as we're able to save the time we used to spend on trains.
How is life in Japan? Was it hard to adjust? What surprised you? Why do you like this country?
I'm a graduate of Japanese studies and coming here for the first time I more or less knew what to expect. On the other hand, I was slightly jealous of those who came to Japan for the first time not knowing much about this place. For them, it was like a whole different planet. For the first couple of days, they were entranced. I didn't get to experience that cultural shock, I was properly prepared. The ability to communicate in Japanese helped a lot, as well as my knowledge of local literature. I still think that by reading Japanese books one can get to know this country a lot better than for example during a short stay.

You'll get to like living in Japan, but you have to adjust and play by the rules. When I get to talk with Poles or other foreigners living in Japan, it always strikes me that we have such similar reflections. Everyone says he likes living here because Japan is so safe and predictable. And – of course – everyone is extremely kind to us.
Can you tell us about the greatest adventure you've lived in Japan?
The Japanese hardly ever use the word "adventure". Here everything is carefully planned and organized, with no surprises whatsoever. For me personally getting to live with a Japanese family and work in a field during my first stay here was a great experience, although I wouldn't exactly call it an adventure. Back then, in a small village in Nagano prefecture, I had a chance to experience everything I'd only know from books - a true sense of community, Japanese work ethos, the beauty of nature, and of course warmth of the famous Japanese hot springs.