Foreign Delegation to Mauritius - a Few Words About the Local Community and Conducting Workshops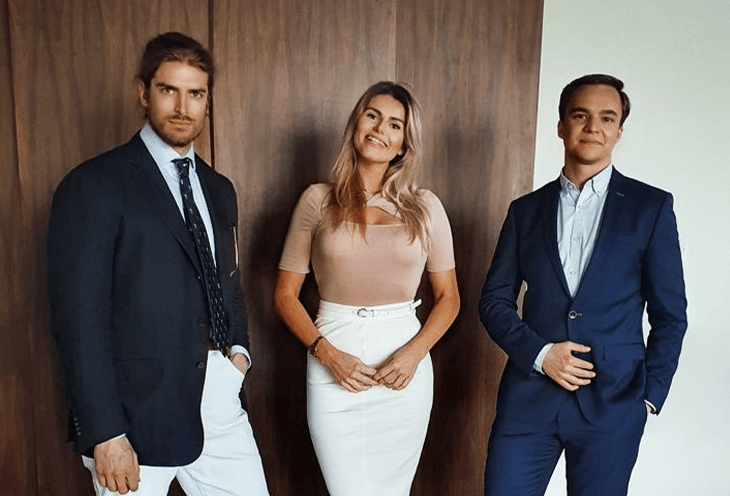 The work of a consultant certainly involves contact with other people. Hours spent on mutual negotiations and listening to the expectations of clients can, from the perspective of some people, be a demanding occupation. Could you dscribe what the job of a loyalty business solution consultant is?
A consultant's job is primarily about knowing the products we sell. Our goal is to show the customer the product's capabilities, its technical aspects. We also contact the manufacturing department to match the customer's individual aptitude with our products. As consultants, we are also among the first contacts with the customer. We verify demand and answer questions about product specification issues. Customers are acquired by sales representatives, while we focus on contact and relationship building. When it comes to negotiating prices, we work with the sales department on licensing. As a relatively new employee, my day-to-day duties mainly consist of attending meetings with customers and the production department, and contacting people related to our loyalty portfolio (LMC and CLM).
Mauritius is an island that many people choose as a vacation haven. The tropical climate is undoubtedly conducive to relaxation. What prompted you to go, and what can a business consultant in loyalty do in such a place?
One day, after three months of work, I showed up at the office in the morning and my boss asked me if I would like to fly on an overseas business trip to Mauritius on the following Monday. Given that the question was asked on Wednesday, I didn't have much time to think, which positively influenced on my decision. The delegation was to conduct workshops and consultation for the holding company there. Despite having little experience at that moment, I was given a great opportunity to see what it was like to work with a client and to assist the team in carrying out the entire process.

We were in Mauritius for two weeks. Initially, I went there with our experienced consultant, then a sales colleague joined us (hello Marlena and Jakub ;)). I flew initially to Dubai, from where I changed flights for Mauritius.

I mainly assisted our consultant in preparing and conducting workshops. It was a very big lesson and inspiration for me, because I could see how professional her work looks. I had the opportunity to observe what such a consulting process looks like from behind the scenes. I saw the challenges, and what advantages can be seen in such direct work with clients. It was an intensive two weeks, where I actually learned a lot of skills needed by a consultant.
The pandemic has had a huge impact on changing the way we work. I guess that the transition with the client primarily to remote contact must have presented many challenges. How did you handle the situation, and how did you ultimately work with the Mauritius-based client?
Initially, discussions with the company were conducted remotely. We had a lot of meetings, but both sides wanted the workshop to be ultimately conducted in person, so as soon as it was safe to travel, we started preparing for our overseas delegation.

What can be confidently said about Mauritius is its uncommon natural environment. Many of us want to see, for example, the Pamplemouss Botanic Garden created by the French consul, or to swim with dolphins. What was it like for you in Mauritius, and did you have time to explore this place?
Meetings usually lasted from 8 a.m. to 4 p.m. In the evenings and at weekends we had time to explore the island. We were accommodated in the capital city, Port Louis, which is where the Polish-born Joseph Conrad sailed from Sydney in 1888. It was a great opportunity to explore and learn about the local culture - the pirate aspects, the colonial past, something amazing. Given that it was winter in Poland at the time, we had much-needed respite in the form of beautiful sunny weather. I also really liked the fact that the meetings included local community issues, which we were able to learn a lot about. We took part in a great training session that introduced us to the shopping habits of the people of Mauritius. It turns out that the main weekend activity is walking around the malls and looking for the best shopping deals. 

Of such curiosities, I can also add that we experienced a fourth-class cyclone - strong winds and rain, powerful waves, and a warning not to leave the hotel. As for the culinary side, a lot of dishes are borrowed from French and British cuisine. It is worth mentioning, for example, the very good tea with vanilla and sugar cane. The people were very friendly, open, typically insular - very laid back, unhurried. Of course, we had the opportunity to enjoy a swim in the ocean from the paradise beaches of Mauritius. I am very happy that I was able to experience this.
The business culture is also less formal, and close relationships are established. We had the opportunity to get to know more about the people we worked with. We were invited to dinner together. I met a trainer-legend of horse racing, the husband of one of the women associated with the project.
As we can see, for you, work as a consultant for business solutions in loyalty at Comarch gives you the opportunity to travel. So what does the work of the entire Comarch Middle East team look like?
Comarch Middle East members often have the opportunity to go on business trips. Most often these are in Middle Eastern countries such as Saudi Arabia and Qatar. I was also supposed to go to the United Arab Emirates for EXPO 2020, but given the pandemic the trip didn't happen. I appreciate that the company cares about its employees in this way, is not afraid to invest in them, and shows trust in newcomers by sending them on foreign assignments.