What is BSS and why does it play such an important role in the IT sector?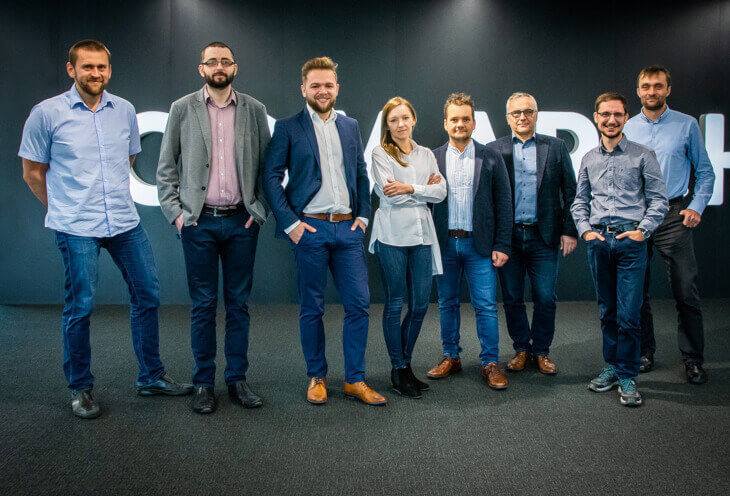 Why is Scandinavia considered a perfect workplace? How relevant is the Business Support System for actual businesses? What countries can future Comarch BSS team members find employment in? We've searched for answers at the very source. Tomasz Staszek, our Senior Solution Manager has told us about his travels, observations and current projects.
What are BSS projects? How would you explain what BSS system is for someone from outside this area?
BSS meaning Business Support System is a tool developed to provide support to client's business. What it means in practice is that BSS provides solutions to manage your clients, your sales and to settle your telecommunication services. A good example of a BSS system is a mobile application we use to activate a prepaid data plan or roaming, check our account balance or see how much data we have left. In certain applications the operator defines what kind of services they will be selling (e.g. how many minutes they will include in the plan), what options they will make available for clients and how much they are going to charge. Thanks to such solutions the operator knows how many clients they have and who they are, what services they use, whether or not they pay on time and when was the last time they notified a network problem. The same BSS solution will allow the operator to issue a couple million invoices or send a reminder about data running out.  On the other hand, with the use of the same application their clients will be able to – for example – to place an order for a wifi installation, track it and pick the configuration they want. The BSS platform provided by Comarch makes it easier and faster to provide a quotation and configure the service. In the past it used to take months, now it takes only a couple of hours. Moreover, it allows to improve the quality of the client's services and lower the costs.
What are some interesting/important projects that have been carried out with the use of the Comarch BSS system?
The first one I would like to mention is the NGENA project. The acronym stands for Next Generation Enterprise Network Alliance. NGENA is an innovative idea started by Deutsche Telekom, whose purpose is to radically simplify the process of ordering virtual private networks between different subsidiaries all over the world.  Comarch BSS is needed to support key processes such as sales, customer and partner relations management, service assurance and network inventory in a multilevel hierarchy of partners, distributor and clients.
Another project worth mentioning is the one we are developing for a Danish telecommunication company TDC. TDC provides next generation digital infrastructure to over 4 million customers in Denmark, dynamically introducing optical fiber networks and 5G technology. Comarch BSS system will be used to manage the wholesale clients for all TDC brands as well as other Danish service providers who use the TDC network infrastructure.
Another important BSS client who we have the pleasure to work with is Orange Luxemburg. The solution we are creating for them will manage Orange mobile services (both prepaid and postpaid), the "Orange Love" offer (Internet, TV, VoIP and mobile) as well as cloud services offered in Luxemburg by third party companies.
Where do we introduce these systems? What countries will Comarch employees involved in BSS projects have a chance to work in?
It might sound strange, but in fact we are introducing BSS solutions all over the world, most of them in Europe. The remaining 20% belongs to the rest of the world. To give you a couple of examples: in the last 2 years I have had business trips to Holland, Denmark, Norway, Finland, Dubai, Panama, New Zealand, Italy, Germany, Thailand and Switzerland.  As for the other members of my team – they have had a chance to work in the US, Canada, South Korea, Japan, UAE, Kuwait, Great Britain, Iceland, Spain, Portugal, Indonesia, Brazil or Mexico. As you can see – the demand for our BSS solutions is huge and it comes from almost everywhere. This is a perfect job for someone who's interested in telecommunication and loves to travel.
What technologies are used in this sector? What technologies do you use in your daily work?
The BSS products help operators all over the world to carry out transformations aimed at increasing profitability and efficiency of their business, simplifying the IT environment and cutting costs. To help them achieve these objectives we must make sure to apply cutting-edge technologies, such as 5G, SDN NFV, Microservices, Docker, Kubernetes, Kafka, Angular or Wicket.
Our architecture is built on well-defined communication APIs. We provide cloud-operating solutions (both Comarch cloud and others, such as Azure, Google Cloud) as well as solutions installed on client's servers. In both cases, we use virtualization and containerization and most of our applications are coded in Scala and Java.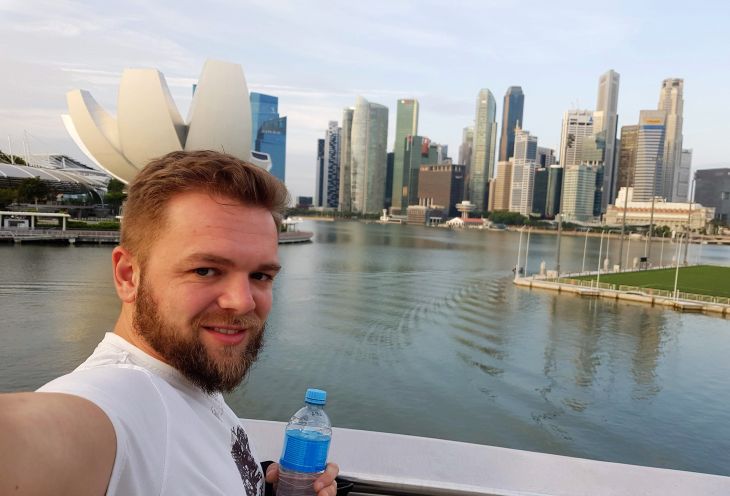 Singapore - fot. Tomasz Stasek 
What abilities and skills are required if you want to work with BSS projects?
First of all, you need to have a general knowledge of the IT system architecture and telecommunication network. We also value those who are eager and willing to learn new things. Having "people skills" is another important factor. Our clients are based all over the world, so we need to be aware of potential cultural differences as well as different approaches to business. Doing business with Asian clients is not the same as doing business with Italians.
Another thing that we value greatly in our team members is inquisitiveness, ability to always find plan B and of course, self-discipline. We don't take "just because" for an answer.
Last but not least: English. This is another key requirement. If you don't speak good English, you won't be able to work in the Telco BSS. Our client must know we are professionals who can fully understand their expectations and will be able to talk business in fluent English.  
An example of a position that needs to meet all the above-mentioned criteria is Telco Pre-Sales Consultant. Our consultants are in fact our first line technical contact with potential clients. Their job is to understand the client's needs and prepare a solution that fully satisfies those needs. A BSS consultant is in charge of analyzing requirements and answering questions as well as drafting the technical part of the offer which will be delivered to our potential clients. Once the offer is ready, he/she will be the one to present it and clarify any doubts that might arise. This process normally takes a couple of months. During this time, our pre-sales consultants – based on their knowledge and experience and in cooperation with Project Managers and R&D - need to come up with a solution that will help the client steamline their business, automize their service, cut costs and improve customer satisfaction.
What can your future team members expect when joining your projects?
I think the main advantage of this job is a direct contact with clients, which gives our consultants the chance to meet many experienced specialists from all over the world. You know, there's no better way to learn than practice! The chance to exchange experience, knowledge and opinions with those specialists can teach you more than years of theory.
Another thing that our consultants value a lot is the fact that they do have a voice and a real influence on Comarch projects and systems and on product development. Also, let's not forget about a quick validation of their ideas. Both internally and by clients.
Lastly, BSS is such a universal area that any experience acquired here might easily be used somewhere else. Being so dynamic, BSS allows you also to be up-to-date with all relevant changes happening in the IT world.  
Does this job keep you at your desk most of the time or does it require frequent travelling?
I think it depends on every team.  But in general terms, around 10-20% of your time as a BSS consultant is spent travelling. The rest is everyday office work, which – let me assure you – is very satisfying and rewarding. And when you do get to travel, there's no problem with using your weekends or vacation days for sightseeing and such.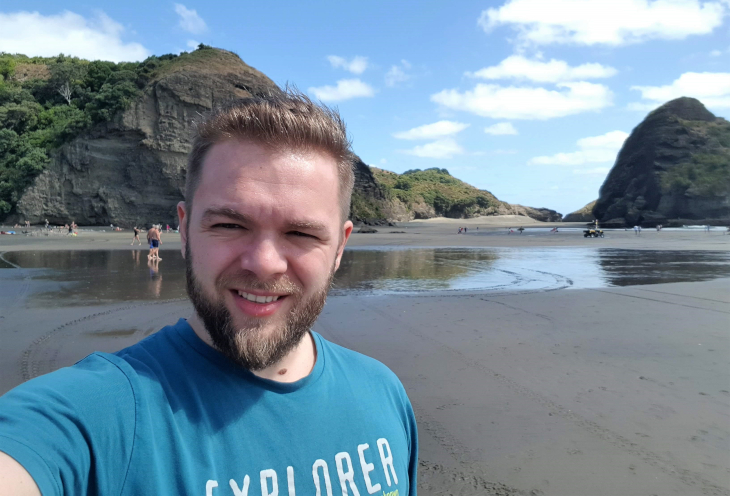 New Zealand beach - fot. Tomasz Stasek 
Which market and which culture do you consider most interesting and why?
Thanks to my work in the Comarch Business Support System I've had a chance to visit some really interesting places. When it comes to business, my most definite preference is Scandinavian market. It is open and friendly and allows for true partnership. New Zealand, where our employees get to travel a lot as well, is very similar in this aspect. Only the weather is better
What does Comarch BSS offer look like compared with the competition? What makes our company the place to choose when looking for a job in BSS?
I can say with all conviction that our offer is one of the best on the market. Our systems are praised for their innovation and elasticity. We are a fair competitor to the biggest players on the market, such as Oracle, Ericsson, Netcracker or Amdocs.