International career at your fingertips. It's possible with Comarch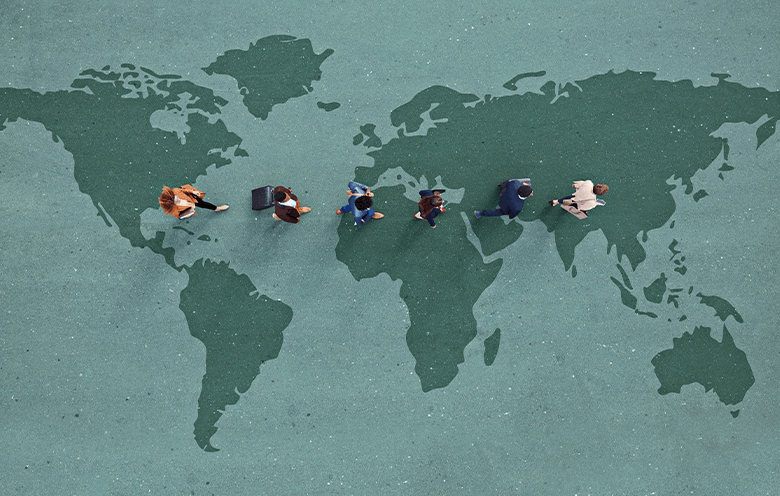 Working abroad is not only a professional challenge that will give you an opportunity to develop new skills. It is also a chance to start an international career and get to know the working environment with which you have not had contact before. After returning to your country, such an entry in your CV may be worth much more than another course or training.
Many of you may associate Comarch as the sponsor of Cracovia, some of you have seen advertising spots promoting solutions for companies, while others have analysed the invoice issued thanks to our programs. Few people know, however, that this Cracow-based company, founded in the rooms of the AGH University of Science and Technology nearly 30 years ago, is now an international player on the IT market, with 91 offices in more than 30 countries, from Japan and Australia, through Europe to Brazil.
Impressive, isn't it? And if we add to this clients scattered on 6 continents in over 100 countries, we probably do not need to convince anyone that Comarch is the perfect place to start an international career.
Is an international career good for me?
Making a decision to go not only to another country, but often also to another continent is not easy. Therefore, this alone shows that we have a lot of courage and determination.
Don't be afraid to try and get out of your comfort zone. It's always better to try than to regret not having tried. Sometimes such an opportunity comes just once and can turn your life 180 degrees. It's easy to miss this moment and never have a second chance again. You can always come back, but rarely get another chance to go. Therefore, when an opportunity arises - jump at it - travel and trips will educate you and make you stronger, argues Piotr Koliński, General Manager working in Dubai on a daily basis.
If possible, visit the country and the city you are planning to go to earlier, to feel the atmosphere of the place and slowly get used to the new reality. And be careful - this trip can completely change your life! - Dariusz Biernacki, who has been working in Dresden for over 10 years, currently as Business Unit Manager, agrees.
First work, then pleasure. Really?
Looking for a job outside Poland and deciding on an international career can sometimes help you fulfil the dream of living in warm countries. Who hasn't had enough of frosty mornings and looking out the window wondering whether it's still summer or already winter.
We have a modern office in the center of Bangkok and offer work in an interesting international team, where we celebrate Polish holidays, such as "Fat Thursday", which is a curiosity for Thais, says Jan Svorobovič briefly about local customs.
We have a dynamic, bold team there. A very pleasant office in the prestigious location of Dubai Internet City. A chance to meet at work and on a daily basis with a multicultural population from all over the world, sums up Piotr.
International careers = global projects
By deciding to relocate to one of our branches or to work from Poland with foreign committees, you will not only gain the opportunity to learn about the culture and work in a given country. It is also an opportunity to gain valuable experience in a given region and work for the largest companies in the world.
Our target group includes the largest German corporations, and it is working with large clients that allows us to gather interesting experience and develop. If you join us, you can expect projects e.g. for the Schwarz - Lidl group, Kaufland - the largest commercial company in Europe and no. 4 in the world, or for STRABAG - one of the largest European construction companies, this is what Dariusz says about the projects that are implemented in Dresden.
Similar global giants are waiting for you in the United Arab Emirates. A strong list of local reference clients with a global reputation and recognition, such as Etihad Airways or Alshaya Group, which has Starbucks, H&M, Victoria's Secret and other well-known brands in its portfolio. Over 20 years of experience in the Middle East. This is something that distinguishes us, concludes Piotr.
Work COOLture
Working in a foreign country and with people from different cultures requires an understanding of the rules obeyed in international companies. However, we must not be afraid of change, as Justyna Brunetti, Director responsible for HR Operations, Policy & Compliance at Comarch Inc. tells us.
Comarch Inc. (USA) has created a work culture where employees come first. Our leaders are committed to reinventing and reshaping work to ensure we achieve our goals while making our work experience rewarding and enjoyable. The team consists of highly qualified, energetic and friendly professionals who are always ready to support each other. We are a dedicated group striving to do what we love with passion. Young professionals who come into contact with different cultures, foreign languages and different ways of doing business will benefit in their careers.
Many languages, one thing in common
Taking up employment in a new environment is also an opportunity to gain unique professional experience in an international environment. It helps you develop various competences, e.g. learning or polishing a foreign language, and also opens up many interesting perspectives resulting, among others, from creating a network of useful professional contacts.
Learning a foreign language, working with a different culture and with interesting clients is the key to development. I also believe that the international environment is an opportunity for greater diversity. At a conference I recently attended, Dr. Salima Douven from Henkel said that homogeneous teams block development. Different perspectives, different experience and competences, which are easier to obtain in an international environment, are the driving force behind innovation, remarks Dariusz.
Justyna is of a similar opinion. Choosing to work in the American team of Comarch Inc may be one of the best decisions in your career. We think that if you love what you do, you can achieve anything. We also realize that balancing your professional and personal goals will keep you full of energy and happy. Therefore, the well-being of each employee is our top priority and the basis for further development.
If you consider going abroad and starting an international career, it's worth finding your own reason. Better wages, language learning, new surroundings, a warmer climate. There are plenty of motivators. Our colleagues working in foreign branches, however, agree on one thing. The incentive must be strong enough for us to plan a trip and start living on our own.