Top 5 skills of an efficient Project Manager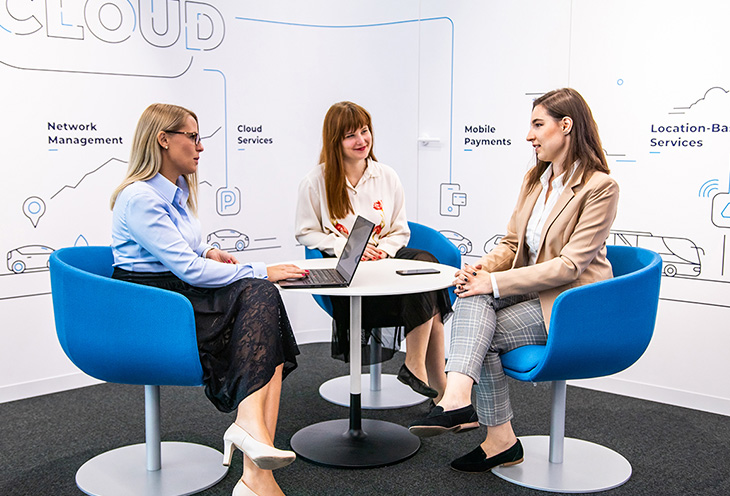 Have you ever wondered what makes a successful team running? One of the crucial factors is for sure the efficient work of the project manager. But what makes an IT project manager succeed in his job? Let's see if there's a certain set of skills and abilities that is required for achieving success in the IT project management field.

Hind Fadil-Idani, a Loyalty Project Manager at Comarch France's office in Grenoble, shared with us her thoughts and experience on the special abilities that allow one to successfully execute projects from initiation till closure.

Hind's been working at Comarch for some time now. She started her career 12 years ago as a software engineer and then progressed to a technical lead position where she was in charge of tasks and team coordination. She got to work with the customers directly, communicating with them on a daily basis and helping them reach their business goals. Hind says that becoming a project manager was a natural next step on her career path: "These responsibilities gave me the taste and pushed me to move forward as a project manager. Comarch gave me an opportunity to explore this new role and has supported me through this process." Nowadays, Hind's work focuses on retail and travel loyalty programs executed for the customers like AUCHAN. After work, she enjoys spending time with her family (husband and three boys) as well as acrylic and oil painting. She also loves hiking in the beautiful mountains near Grenoble and enjoying the natural beauty of the region.
Responsibilities of an IT Project Manager

IT Project Manager's key responsibility is to plan, organize and direct the completion of projects while respecting timeline, budget, scope, and allocated resources. In other words, PM's making sure that all these elements are aligned with stakeholders' expectations throughout the project lifecycle. Hind for example usually starts her day by reading her emails and answering phone calls to stay up to date with everything that goes on within a project. She then calls up her colleagues to get to know the latest work status. This part is of crucial importance: "Whatever information I receive, I need to make sure to prioritize correctly. I pull meetings with customers and stakeholders as well as the team to get updates or communicate the latest status changes, plan workshops, etc." Hind also produces reports and makes sure that key milestones are reached. Working as a project manager, she's the one who prepares presentations to sum up all the advances made in the project. 
Pros of working as a Project Manager
An IT project management role would be great for anyone who's a true team player and enjoys working in a diverse, dynamic environment. Hind told us she always enjoyed working in a team of professionals and collaborating with various actors of various fields. Working as a PM requires her to take on different technical and human challenges. This allows her to feel stimulated and learn continually. As for Hind, working in the Retail domain has made her day-to-day tasks even more interesting. She says: "It allowed me to participate in the sizeable projects and interact with interesting customers and a great team of developers, quality assurance engineers, analysts, architects as well as desktop support staff. We learn from each other every day and it's very motivating. I try to give them the best of myself in order to lead by example".
What makes a great Project Manager?
Here are all the crucial qualities that allow one to become successful in the project management field in IT:

1. Efficient communication. EveryPM needs to be able to actively listen and build relationships based on trust and respect with various actors of the project. In order to do so, one must communicate clearly and in a straightforward manner. All the messages need to be unambiguous. If you're thinking about launching a career as a PM, here is Hind's advice: "I like to apply the KISS principle used in software engineering in my everyday communication: Keep it Simple and Stupid"!

2. Organizational Skills. The PM must stay organized throughout the project lifecycle, needs to be able to balance deadlines, a budget, and quality of work. Sticking to the principles would guarantee the success of even the simplest projects and this is where organizational skills come into play: define scope, set priorities, review progress with a project plan, and make sure that the team communicates internally, for example by setting up regular meetings. According to Hind, using PM software will make it all much easier.

3. Agility. No surprise that being agile and flexible is crucial while managing an IT project. An efficient PM should adapt to changing conditions and evolving goals through revised project plans while also making sure that everyone on the team is up to date with any changes made by either the manager or the customer.

4. Good negotiation skills. As a person working directly with both the customer and the team members, the Project Manager should be able to keep his head in a situation of a disagreement. This means he needs to stay calm, analyze the context properly and be able to always find the best solution possible in order to establish the common ground with all the stakeholders. This may require reacting dynamically and making decisions quickly.

5. Integrity. There is a simple rule to show your integrity to the team: you should practice what you preach. Setting an example will allow you to gain credibility and colleagues' trust. The collaboration will be smoother if your co-workers will know that you're reliable and trustworthy. To "walk the talk" is the key to success!