"This really isn't a boring job". What's there to know about sales in Comarch UK?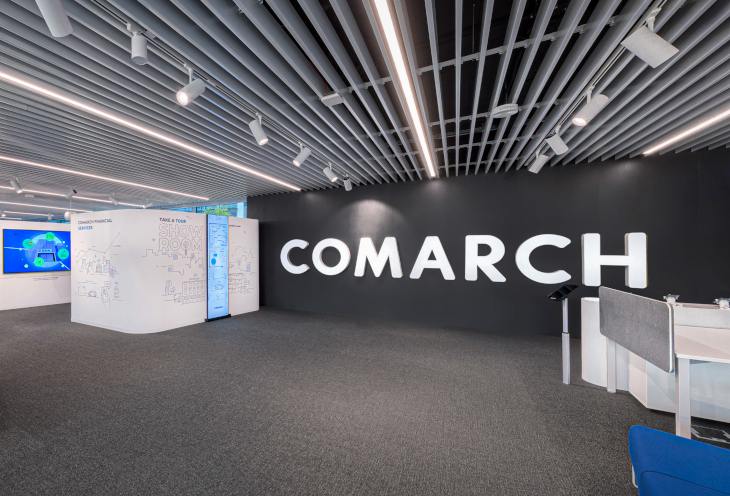 Oskar Wierchowicz, Managing Director of Comarch UK, told us why he values organisational hierarchy at Comarch, what makes a good salesman and how the 5G technology is going to change the world.
He explains how he splits his daily working time between sales in telecommunications and services, searches for new clients and oversees the implementation of Comarch's software after it's sold. As it's crucial to always be one step ahead of the competitors while developing business abroad, he also stays up to date with all the latest technology news.
There's a lot going on in the global telecommunications industry right now. What would you say are the most interesting and important projects within Telco at the moment? How does Telco Sales support their implementation?
Just as in any other Comarch division, Telco is all about creating products that are technologically advanced and reliable. Telecommunications software is the oldest branch of products in our portfolio, closely linked to Comarch's roots. We are proudly supplying our solutions to the majority of the biggest telecommunications companies in the world.

Telco Sales, the commercial leg of Comarch's telecommunications business, is actively searching for new customers. We are also responsible for day to day account management of tasks related to already existing customers. If there's a Tier 1 CSP somewhere out there that is not Comarch's customer yet, you can trust me when I say that our team is working on changing that right as we speak.

The most important, and at the same time most interesting and challenging, are projects involving 5G technology. 5G is the buzzword that seems to be widely covered by the media these days and the hype around it makes a lot of waves. This technology will very soon change the world we live in. It will change the way we work, the way we entertain ourselves, the way we travel, you name it. It will create (in some areas, that creation is already in progress) new business ideas, new social interactions and shape new behaviours.

CSP's around the world are working hard to bring this technology to their customers and they are doing that as fast as they can. To do that efficiently they need the support of technologically advanced IT systems: starting from rolling out of the new hardware, through setting up and enabling new commercial products, ending with being able to maintain and continually update all of it. And here is where Comarch comes in. We've been developing our products to support customers' networks for over 25 years and now we are here to help them shape the way the world will be communicating in the future. Just recently we implemented our products to support LG U+ with rolling out of their 5G network across South Korea.
It's being said that IoT and AI technologies could support telecommunications providers in creating new offerings to their customers. Is this happening already?
Our interactions with mobile devices are changing significantly with each generation of telecommunications technology. These days we use them to stay connected with our families, friends, to entertain ourselves, check out the latest news, stay safe, work, etc. Our behaviour generates huge amounts of data. By using sophisticated technologies, CSP are able to extract some information about how, when and where we interact with our devices. This in turn allows them to prepare offers that are much more suitable for the targeted customer than ever before. Nowadays switching between providers is quite easy, therefore CSP's have to fight for the loyalty of their customers with every tool possible. AI is just a natural next step.
Working as a salesperson you combine two areas of expertise: telecommunications and services. Does one of them have an advantage over the other in terms of dynamics of development?
First of all let's explain one major point: Telecommunications and Services are two very different beasts. The difference is not only in what applications and services each sector delivers, although they sometimes do supplement each other. The main difference is in the way we approach their respective customers.

When selling our telecommunications solutions, due to the nature of our products, we mostly focus on insightful technical discussions around software architecture, technologies used, integration of Comarch tools with third-party solutions and our approach towards supporting them years after they go into production so that our customers can stay ahead of their competitors.

As for the services sector, our flagship products focus on loyalty systems for businesses and retail. Our main focus is on marketing functionalities and flexibility of our products so they would provide very customisable campaigns. Our experienced consulting experts always do their best to create something unique for each of our customers.

As you may see, with two completely different audiences you need to adjust your strategy accordingly.

So, to answer your question – being responsible for business activities of both sectors in the UK I need to wear different hats depending on who my next meeting is with. If it's someone from one of the UK high street biggest retailers, who are after a state of the art enterprise loyalty solution, or a tier 1 mobile operator looking to invest in a future-proof network management tool, I have to make sure our approach is adequately tailored to meet their expectations.

In terms of advantages of one area of business over the other, the obvious one seems to be the number of prospective customers. There are disproportionately more corporations interested in introducing or modernising a loyalty system than there are customers looking to buy a system that, for example, virtualise functions of their telecommunications networks.

Saying that I am yet to prove that ratio in terms of Comarch's customers in the UK.
A perfect salesman needs to have great interpersonal skills and a pro-customer attitude as well as be able to present his arguments in a professional manner. Is there anything in particular that really makes a difference between a good and a great salesperson?
In my opinion, there's no single attribute that makes a great and successful salesman, there's no 'golden gene'. It's always a mixture of many qualities. First of all, you need to enjoy working with people, and I mean your team as well as with your customers. If 'people skills' isn't your thing then you better find something else to do as you'd be wasting your time. I strongly believe that customers tend to buy from people they like. If you're able to find a connection with your customer, a lot of your work is already done. If on top of that, you have a very good pre-sales team, your joined efforts will be noticed and appreciated by your customers, which will make the selling process much easier.

An ability to easily adapt to a changing environment is a must. The procurement processes that Comarch is participating in are usually very complex and therefore tend to be quite lengthy. There are many twists and turns along the way and you have to be able to read that dynamic environment in real-time and adjust your strategy appropriately. The quality of decisions you make in these situations will improve in time as you gain experience, but that attitude to think with an open mind and not just routinely follow the course of events is something that should come naturally.

Such a complex procurement process can be an emotional roller coaster. You need to be ready for some ups and downs, but nonetheless, you should stay focused on the final result.

I also don't believe in being that overly pushy or overly assertive salesperson while completing your daily tasks. I've met many of those over the years. I'm not saying they are not successful in their jobs, it's just not my style to work that way.
Many people imagine a salesman as a young guy travelling around in a company car pushing discounts to potential customers. The reality is a bit different, isn't it?
This question has brought a smile to my face as it hits quite close to home. This is exactly how a member of my family has once described what I do. This description is probably valid to a certain extend in a number of industries and I guess there's not much wrong with that. However, it has nothing to do with what sales professionals working at Comarch branches around the world really do.

Comarch's sales professionals are responsible for the entire life cycle of a contract, from the bidding process (prospecting, proposals, negotiations and signing) to taking care of their accounts during implementation work and later when the systems are in live use. Don't forget that these are multi-million dollar deals and closing one requires dedication, patience, perseverance and, sometimes, a stroke of luck.
Working at international sales, especially for big companies, may require plenty of travelling. Is this also the case at Comarch?
It all depends on your circumstances, location and responsibilities. There are many salespeople at Comarch who spend a significant part of their time travelling. Some travel only within one country, some within a larger region, i.e. Scandinavia, Benelux, LatAm, etc. Some are jumping between continents almost on a weekly basis.

As I am responsible for Comarch's business in the UK and Ireland, my travelling is pretty much limited to that region, except when we take part in international trade shows or other meetings abroad. I share my time between our London office and field sales meetings.
You are working for a British branch of a Polish company, which means you may observe two different visions of doing business. What kind of differences and similarities did you notice over the years?
Personally, I look at this from a number of angles. I've lived outside of Poland for over 15 years now and since I left I've always worked in multinational environments. During that time I lived more than 10 years in London, one of the most multicultural cities in the world. That experience gave me a certain perspective on work, business and life in general.

There's obviously a number of differences between both nations, be that cultural, political, economic, etc., but Comarch's 'pro-western' attitude towards making business outside of Poland helps build relationships with our British customers.
Are there any noticeable differences between working in Krakow and London?

I have to admit that I never worked in Krakow. My time in the HQ is usually mandated by a need of accompanying our customers during their visits, internal meetings or training sessions.

From a pure working perspective between being in head office and a foreign subsidiary, the main difference is the remoteness of the latter. You don't have physical access to the resources you usually need. In a standard set up it would be quite natural that if you needed to talk to somebody you would just go and see them. For all of us that work abroad, everything involving support from HQ needs to be done via phone or on-line. It is also that much harder to build the internal relationships which are crucial to do our jobs properly. Luckily, Comarch is great at organising internal training and conferences which provide that much-needed face to face contact with your colleagues.  
Is there something in particular that makes you enjoy working as a salesperson? Something that motivates you every day?

When you are employed in a business development role at Comarch, you have quite a wide area of responsibility. You work with people from many internal departments: pre-sales, legal, finance, taxation, implementation, support, marketing, etc. On top of that, you engage with your customers, again being exposed to people at many different roles and levels. This really isn't a boring job.

It also helps that Comarch offers quite a no-nonsense approach towards organisational hierarchy. Here, contrary to other corporations, you don't have to jump through what seems to be a limitless number of hoops to get something done. At Comarch, you can quickly find out who is responsible for a certain aspect of the business and get from them what you need, even if that involves the board members of Comarch Group. That is quite impressive and unique for a company of this size.

For me personally, the best part of my job is the chase, that thrill of realisation that you are almost within the reaching distance of getting a deal. Also, you are part of a team of very dedicated professionals with the same goal who work very hard to get to that point. I often hear from our customers that they've noticed the camaraderie within our bid teams as well as our constructive attitude. I think I'm happy with what I do because I work with friends.
How did it happen that you found yourself living in London in the first place? Was it hard to adjust?
I come from Szczecin, a large city in the north-west of Poland, where I studied IT and Econometrics. After completing my bachelor's degree I decided to try my luck in the big world. I ended up living in the western side of London, locally to Brunel University which runs a great master's programme focused on Information Systems Management. Whilst working on my dissertation I managed to land my first professional job working in the operations department for one of the pioneers of M2M technology. That's how I started my adventure with telecommunications.

The great city of London is like the entire world in a pill, just take a walk along one of the busier streets and suddenly you'll be exposed to a great mix of races, languages, foods and religions. Embracing that came naturally to me and was something I always greatly enjoyed.