A career in Comarch without borders – relocation to the USA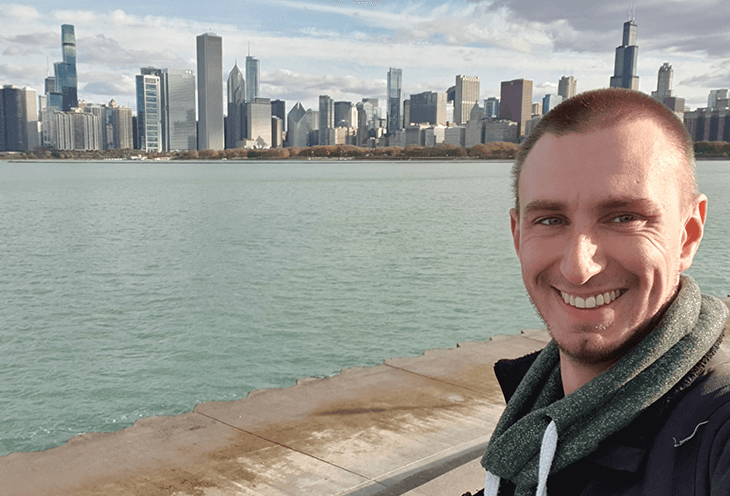 Meet Artur Radko, a Comarch crew member for five years. Like many employees in Cracow's company, he was allowed to relocate to the USA. How did the move look like, and what were the difficulties? Read this story.
Artur, Let's start from the beginning. How did your adventure with the United States begin?
I started my Comarch experience in 2017 as a business analyst for telecommunications. At that time, Was responsible for developing and maintaining products for the OSS (Operation Support System) sector, which were developed mainly for projects in South America. The work for the following years was great. I found myself well in the Krakow company.

At the beginning of 2021, I received a proposal to change the scope of duties. Namely, I was supposed to help develop interfaces for integration with the client's legacy systems so that all data from previous systems could be downloaded to our telecommunications software. So, I joined the team implementing the project for one of the Californian companies supplying electricity and gas to the region's residents.

My tasks initially included attending meetings with the client, mapping the client's data model to our internal data format, and, over time, larger tasks such as end-to-end analysis of the entire solution. Working in the new team was exciting, with many challenges, solving contractors' problems. However, the most significant disadvantage was the different time zone. The sun rises over the US West Coast nine hours later than in Central Europe. When Californians started their working day at 8.00 am, it was already 5.00 pm in Poland. Also, part of my team was working from Chicago. It was pretty troublesome.

Finally, after several months of operation, the Supervisors proposed that part of the team working so far in Poland should move to the Comarch office in the USA. The decision to relocate was rather tricky. However, I like challenges, and I have family in the United States. Moreover, I had been to America before and knew Chicago well. So, I responded positively to the proposal. All that remained was to finalize the documents and start a new chapter in my career.
What was the relocation process to the USA like? Did everything run smoothly?
Before departure, I had to hold a series of meetings to discuss the terms of my relocation in details. We had to determine the conditions under which I would be employed in the US; what benefits I would be entitled to, whether I would receive a company apartment or the equivalent of the rental costs incurred,

I flew to the USA in February 2022, initially as a foreign delegation. It was not an easy time. Then the war in Ukraine began, and both Poland and the United States experienced the peak of Covid-19 cases. To arrange anything in Poland, one had to be patient. The delegation in February was not my first, but it was the longest one.

It is necessary to have the correct visa to relocate to the United States and be able to work legally. Fortunately, I didn't have to deal with it. A lawyer from Washington prepared all documents related to the formal side of relocation to the USA. Apart from the procedures and waiting time, there were no complications here. Unfortunately, the time turned out to be the worst thing. We were all documents to the embassy at the end of December 2021. At that time, I was instructed to wait for a message from them. The initial verification was positive. I received permission to relocate to the USA. On the nineteenth of April, I flew to the United States, and the next day I officially became an employee of Comarch.Inc.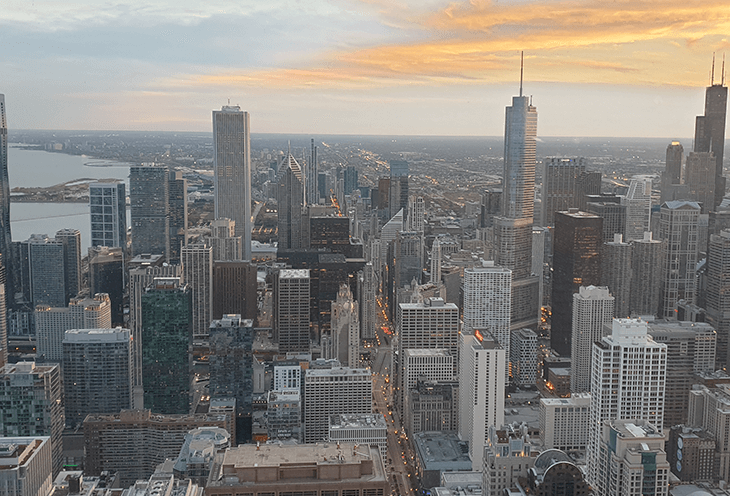 Tell us about your beginnings in America. What was the most challenging for you?
The first steps could be challenging. Comarch in the USA usually pays relocated employees for accommodation for the first month; It is possible to choose a hotel or an apartment. It is a great oportunity to find find your own accommodation. After arriving in the United States, it is important to rent a car. Unfortunately, public transport here works worse than in Europe. In many cases, only expensive taxis remain.

I had a lot of good fortune because I rented an apartment near the Chicago Transit Authority line. It's a kind of subway, except that most pathway runs above the ground. It's good that both Comarch USA headquarters and my apartment are close to the same line, so I missed the cost of renting a car. In addition, at the beginning of my stay in the United States, I had to apply for an SSN (Social Security Number).

Upon arrival, it is necessary to set up a bank account, rent an apartment, and submit an application for health insurance. It's difficult for a novice because only some things can be done online. Sometimes it takes much time. An additional difficulty is dealing with individual cases in the proper order. For example, I had to get an SSN with a place of residence. Therefore, I had to confirm this address, preferably with an electricity or gas bill in my name.
What differences have you noticed between working in Poland and the USA?
Regarding work, I see just a few differences between the United States and Poland. As a relocated worker, I have slightly different employment conditions than Americans. As an illustration, I have longer leave, than the American.

The working conditions themselves are very similar. The most noticeable is the currency change, especially when I returned to my family in Poland. Admittedly, inflation is not like in Poland (almost 20%), but it also came here. I hear from Americans, "It is sooooo expensive now", but for me, who was on vacation or a business trip in the United States before, it is not that expensive. However, the most significant change can be seen in the fuel. In 2019, a gallon was $1.95, and now it's $5.30 on average.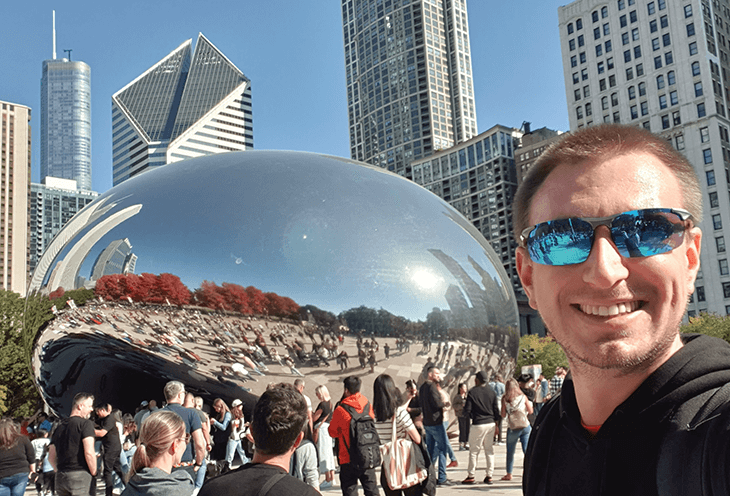 Have you caught any significant cultural differences between Europe and the USA?
There are many, indeed. Therefore, it is not surprising that many Poles work in Comarch USA. However, recently we have been trying to employ americans and these proportions are changing a bit. As for me, I had no problem switching to the work culture in the United States because we work very similarly in Krakow.

One thing that stands out is this, sometimes forced small talk. I knew earlier that it is much more common in the USA than in Poland. However, sometimes it is not necessary, in my opinion. It's safe to assume that one person on small talk (and only at business meetings) loses about a month a year. This time could be used for real work in the company. Nevertheless, working in the Krakow office and Comarch.Inc is very similar.

Referring to cultural differences more broadly, when people ask me what's so cool about the US that Poland doesn't have, the simple answer is a 'light approach to life. Americans, for example, are not in the habit of judging everything and everyone. And I'm not talking about how you drive a car because it annoys everyone in every country. We can express ourselves much more freely and boldly in the United States. No one is persuading anyone, and no one is suggesting the most appropriate way of being. Oh, and you know what? Americans don't spend half the day complaining!
I don't know how it is in other European countries, but parades are organized very rarely in Poland. In the United States it is completely different. Americans organize them for almost every occasion. I mean Halloween, Christmas, the Market and, of course, St. Patrick's Day (which is the biggest celebration in Chicago). In addition, during the latter event, the now famous worldwide dyeing of the river green takes place in the windy city. There are countless opportunities to parade, and Americans simply take advantage of it and have fun for almost any occasion.

I can't forget probably the largest Parade in any American city, which takes place on Independence Day (the fourth of July). It usually ends with a very characteristic fireworks show after dark.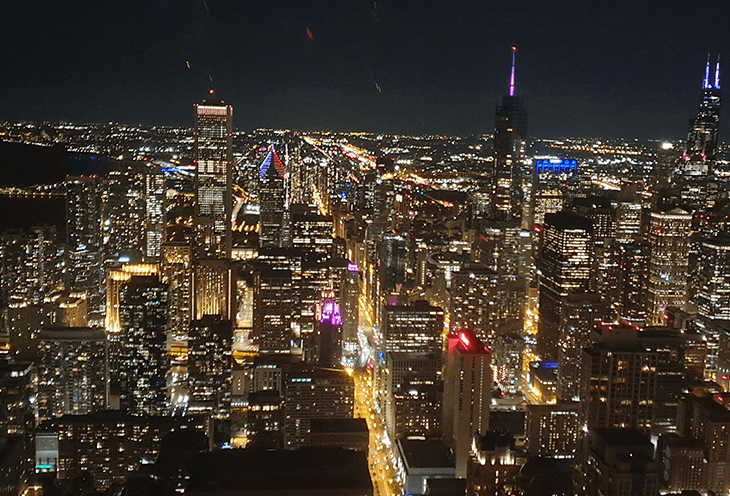 What would you advise people who are thinking about relocation?
It is a challenging decision. Everything needs to be well thought out and planned. Certainly, however, relocation offers many possibilities. For teams that work in different time zones, it is even advisable. The opportunity to work abroad is always associated with the case of personal development, meeting new people, and building an international network of contacts.

Relocation to the USA is an exciting perspective for career development. However, I have yet to be in the United States long enough to decide if this is the place I will choose as my asylum. I am still determining if I will not go to my manager in a year or two and tell him: Listen, do you have any new fascinating projects? Send me somewhere because I'm bored of the USA!

Currently, as Comarch, we have many projects all over the world. People are needed locally because working in different time zones is almost impossible and very difficult. As soon as you find out that your center is implementing any foreign projects, please talk with your supervisor about it. The opportunity for relocation may be rare in the near future, but the benefits privately can be immense!