'The thing we have in common is that we are different'. What are the perks of working in a multicultural office?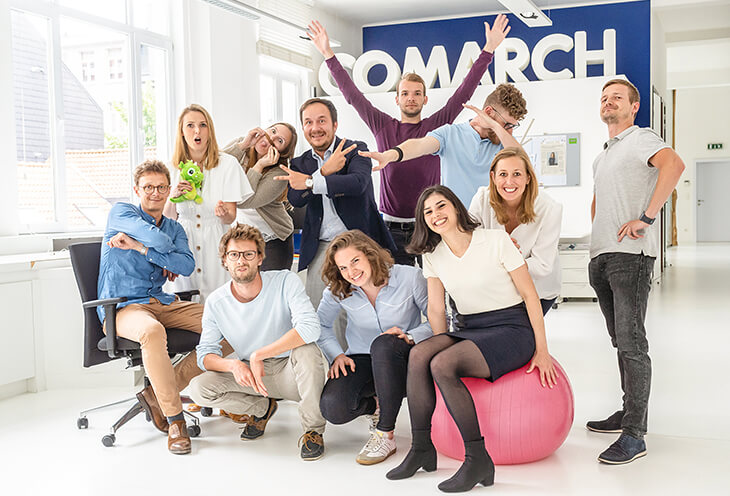 Comarch Benelux has been operating for 15 years now. What makes the team so special is the fact that there are more than 10 nationalities working in offices in the center of Brussels and Rotterdam - and making it successful. A unique atmosphere of openness and a kind of 'startup' mindset can make you feel that the sky is the limit. Here's why they enjoy working together – in their own words.
Doing business in Benelux
Did you know that Comarch Benelux has been operating since 2005? It's been 15 years already! Back in the day entering yet another foreign market meant building everything from scratch. A lot has changed since the signing of the first contract. Now the company operates from offices located in the center of
Brussels
and
Rotterdam
and the team expands every year. We're really happy to have some excellent specialists onboard – our Benelux team mainly consists of business development managers, consultants, analysts, and marketing experts.
Comarch Benelux is a pioneer in different industries on the local market. The company is targeting clients from areas of
finances
,
telecommunications
,
retail, and manufacturing
. This year marked the beginning of future expansion in the area of
e-Health
as the team observed a growing demand in this field, especially for Comarch e-Care and Diagnostic Points.
Wojciech Pawlus, General Manager in the region says: "We are pleased to revolutionize crucial markets as Insurance, Banking, and Telco with our best-of-breed products such as Digital Insurance, Wealth Management, or BSS Suite. We are convinced we'll also become a leader in the eHealth business in the upcoming future ".
The key to success
All of that sounds great, so we asked our Benelux team what's the secret of their success. There is no one correct answer to that question, but a lot of our colleagues stated that 'diversity is the key'. The employees come from Belgium, Poland, Netherlands, France, Russia, Finland, Italy, Lithuania, Latvia, Spain, Morocco... It seems that being a part of such a varied team is a huge advantage. In fact, it perfectly corresponds to the Benelux population in general. For instance, more than 60% of Brussels' inhabitants are foreigners or have a migration background.
Joining such a multicultural office allows new employees to mingle easily and find their place and professional identity. Marketing experts Alexandra (originally from Russia) and Leïla (half-Polish, half-Moroccan) say: "We've realized that our cultural differences are one of our greatest strengths".
Niels, Sales Manager (Belgium, Flemish part) adds "Being different and open-minded improves the quality of work. It creates a healthy environment in which all opinions are discussed and considered." Diverse backgrounds also help to think outside of the box and come up with creative ideas.
Openness, because everyone has a story
A multicultural team in Belgium is also a great place for anyone who's talented and determined to succeed in the IT business. Emilie (BDM, French) tells us that she applied for the job after spending 6 years in Brazil and another few months backpacking through South America. Never heard about Comarch, never worked in IT before. And she was offered a position based on her personality, positive mindset, and capacity to sell. It was the best proof of trust she's ever experienced in her professional life. Niels on the other hand applied for one position, but based on his abilities was offered another.
Back in 2010, the CEO of a renowned insurance company told Wojciech: "You come from Poland. Excellent – Polish construction workers transformed my house perfectly". Several years later, the same CEO said "I am lucky to work with a Polish-based software house – you have transformed my IT business perfectly". It only shows how much the world and the perception of Polish labor force have changed over the years – and how our team managed to help with that change.
The day-to-day life of a multicultural team
No surprises here – a multicultural office is most of all a perfect place for foodies! When comes the lunch hour, discussions about food tend to start. Most of the team carefully observes, analyzes, and discusses what everyone eats. Once a debate begins about culinary preferences, secret ingredients, and different ways of preparing the most delicious meals, it may end with some friendly banter or even a little political discussion.
A holiday season or summer vacation is also a great occasion to share with the teammates some goodies brought back from home. Birthdays are always celebrated with delicious homemade treats. Signing a contract successfully calls for a little feast as well. Comarch Benelux team often celebrates it by engaging in some fun activities together - not just sharing a fancy meal, but also having karaoke parties, collecting plastic junk from the rivers of Rotterdam, or helping those in need.
Foodies joining our team in Brussels will also benefit from the office location. Just a few steps away endless cuisine options await - one may choose from Lebanese, Thai, Chinese, Italian, Greek, and many more. 'It's great to experience something new each time' - says Artjoms, Business Development Manager. Also while living in Belgium, one cannot avoid becoming a fan of local beer – that's a liking that the whole team shares.
While working in such a multicultural environment, it's unavoidable to pick up a few random foreign words – even if it means they'd just repeat them out of context. One the employees used to repeat the word "klopt" (Dutch for "correct") only because it sounded funny. Every now and then someone forgets to switch languages during a conversation. Life at Comarch Benelux is anything but boring.
And last but not least - a multitude of cultures means endless conversation topics. During small talk, no one needs to discuss the weather anymore (and the weather in Belgium is usually rainy anyway).